The wheels hit the ground. Finally back in Georgia. Returning with a mountain bike has been a dream of mine since my first visit back in 2012. Now the dream was about to come true, and for the first time since 2012 I had no idea what awaited me when I stepped out of the airport.
My host for the next two days was waiting for me in the arrival hall. It is four in the morning, and when we arrive at the guesthouse I am more than ready to hit the hay. My host, on the other hand, insists that I should have something to eat first. I fear the worst…
The Georgian hospitality is renowned, and my host is particularly hospitable. But, the tradition of always greeting guests with wine or cha-cha (Georgian liquor) leaves its marks. Night becomes morning, and I stumble to bed while the rest of the village wake to life.
After a few hours of sleep I return to the kitchen-table, this time in quite a reduced capacity. If I am to map all the trails I have planned there is no time to lose. I am offered cha-cha to repair. I politely turn it down as I try to gather my strength for the day.
From heaven to…
The goal of the day is Mariamjvari Nature Reserve. 900 vertical meters by car brings us up to a fertile plateau with small hills, summer farms, goats, sheep, cows and spectacular views. I am rather ecstatic as I mount my bike and pedal around the plateau, before I point my front wheel down towards to valley. From my living room back home in Norway, I have been meticulously planning which trails to ride. Now it was time to collect. Still, my first meeting with the trails of Mariamjvari can be summarised by two things; rocks and thorns. Broken but not beaten I return to the guesthouse.
For dinner the Norwegian guest is a great disappointment. According to Georgian tradition you are supposed to drink up for every toast. However, with this morning's welcoming fresh in mind I settle with sipping. For dinner we are joined by the neighbour who is clearly in disarray over the Norwegian drinking-style. Maybe I would like some cha-cha instead of wine? Another polite no thanks. We go through quite a few more toasts and after about 10 toasts and 4-5 glasses of wine I get another offer: Since I do not drink, maybe I would like some marihuana? In general, Georgians like the green herbs. Another polite no thanks. Saved by the Facetime-bell I turn in for the day and get ready for a new day of adventures.
The next day my host guides me to the roads he thinks is best suited for biking. I try to explain that I am not looking for roads, but trails. We agree to disagree. I aim for two trails I have been studying on satellite photos. The result is bloody legs and biking in dry creeks. Not quite what I had pictured. Even so, the day ends on a high note as the mountain-trail to Kakheti proves to be a fantastic trail. I conclude that a success rate of 50 % is not too bad after all. As I enjoy my dinner at tonight's winery, I stare up on the Caucasian mountains which I hope will be the playground I have been dreaming of.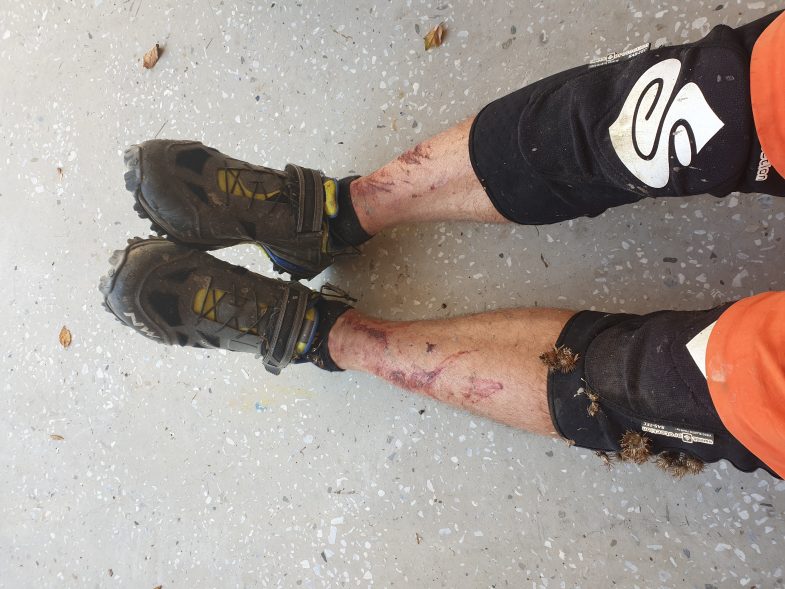 Wine and MTB
Breakfast at the winery, and biking among the vineyards sets the stage for the day. The first kilometer of the first trail is a beautiful singletrack. However, it does not take too long until my faith in the trail is dissolving. As it becomes steeper and steeper it is also turning more into a creek than a trail. My hope is that it once I get to the other side of the ridge I will find my dream-trail. That hope does not last too long.
Down in the valley I enjoy the predictability of paved roads on my way to the next village. Another promising start, turning into a very steep and sandy trail with some mysterious vehicle-tracks. If I got my answer to what made the tracks, the logger which I met in the dozer left with more questions than answerts after our encounter in the Georgian woods.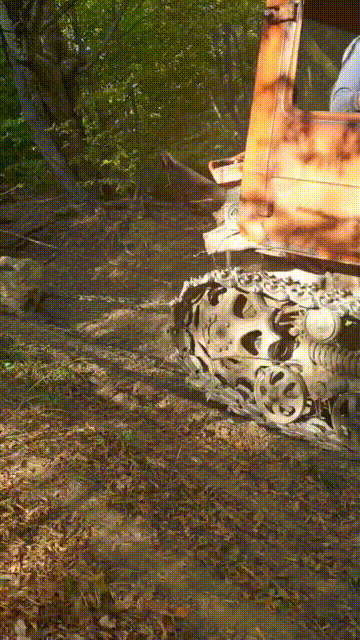 In the end I give in, and return home for a massive session on Google Earth and maps. I fall asleep fearing another day of failures.
Kakheti is located northeast of Tbilisi, on the border to Russia. When I encountered a border-post on my way to the trail of the day I could feel my heart sink. No time to show weakness! The border patrol shook his head as I came biking up to him. He went inside to get the senior ranking officer. Thoroughly I try to explain that I am from Norway, and plan to bike the marked trail passing the border-post, and that I am heading up to the mountains.
– No road, replies the officer.
I pick up the phone and show them that I intend to bike the gravel road which is marked on the map.
– No road, the officer replies.
– Russia border, he says and points in the direction of the mountains.
Yet again I pick up the phone and show them a video of mountain biking back home.
– No road, no problem, I proclaim and show them the video. He is left contemplating for a while.
– Ok. Your problem. Not my problem, he says and sends me away with a big smile.
I breathe a sigh of relief, and commence on the 10 kilometers of serpentine-turns that lay ahead. At the end of the road I find my Caucasian dream-trail. The classical mountain trails leading up to the summer farms high up in the mountains. I push, carry and thoroughly enjoy the ascent to the last summer farm. Pumped and relieved I point my front wheel towards the valley with 1500 vertical meters of magnificent single- and doubletrack ahead.
The valley of dreams
For the last days of my tour I am joined by some Georgian friends as we are heading to the Pankisi-gorge, for most people a black spot on the Georgian tourist-map.
The Pankisi-gorge is inhabited by ethnic chechens, or Kists as they are called in Georgia. During the second war in Chechnya, Georgia opened its borders and the Pankisi residents opened their homes to Chechen refugees. The refugees, however, were called terrorists by Russia, causing a rumour that has stuck since.
What we found, on the other hand, can easily be characterised as the valley of dreams, and particularly for mountain biking. This fertile valley leads right up to open and grassy ridges, ending at craggy peaks at around 3000 meters. The villages were among the calmest and most well-maintained I have seen during my journeys in Georgia. The guesthouse was also a highlight.
Our host at Nazy's Guest House was a young woman who had worked as a lawyer in Tbilisi with a promising career ahead. Even so, she could not stand idly by and watch her birth-valley following a downward spiral just because of bad rumours. So she opened a guesthouse to prove the rumours wrong, and in the process has singlehandedly developed tourism in Pankisi.
Mountain bikers will find everything they long for in this valley. There are dirt roads where you can get a shuttle by car from 700 meters to 2000 meters. From there you can pick and choose among singletracks, doubletracks, forest trails, mountain trails, alpine tours, freeride, and everything in between.
After three days in Pankisi we were so pumped that it is almost as we forgot that we also visited a mecca for freeriding, and magnificent forest trails in Tbilisi National Park on our way back to the capitol. A small reminder of all the adventures that lie ahead if you visit Georgia!
Join us for an amazing MTB-adventure to Georgia in september 2020