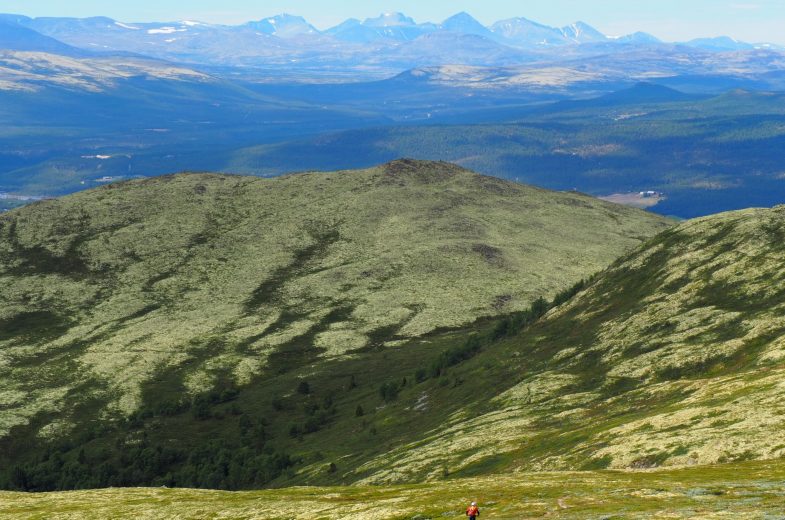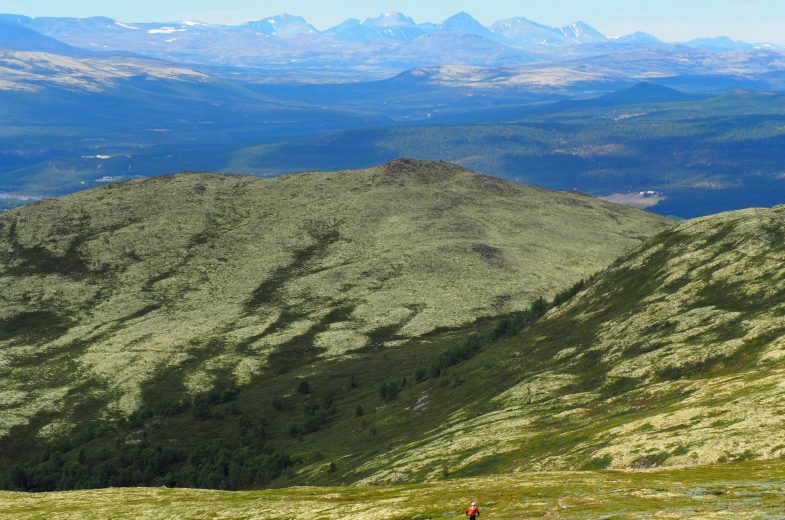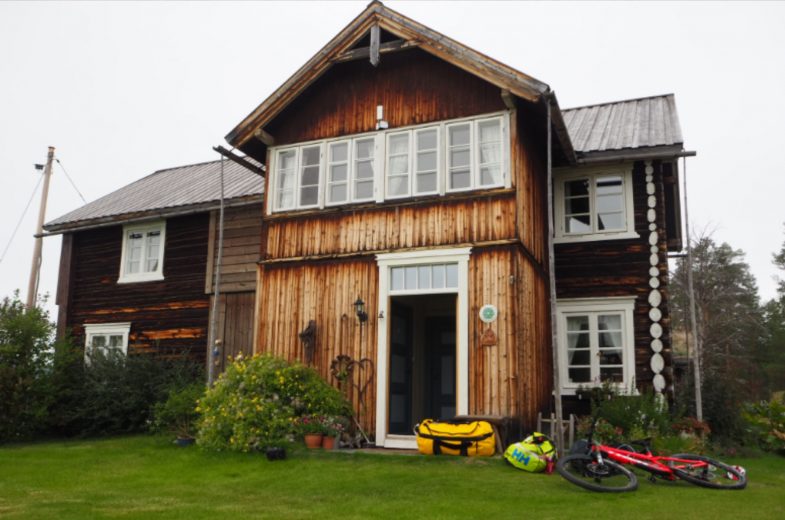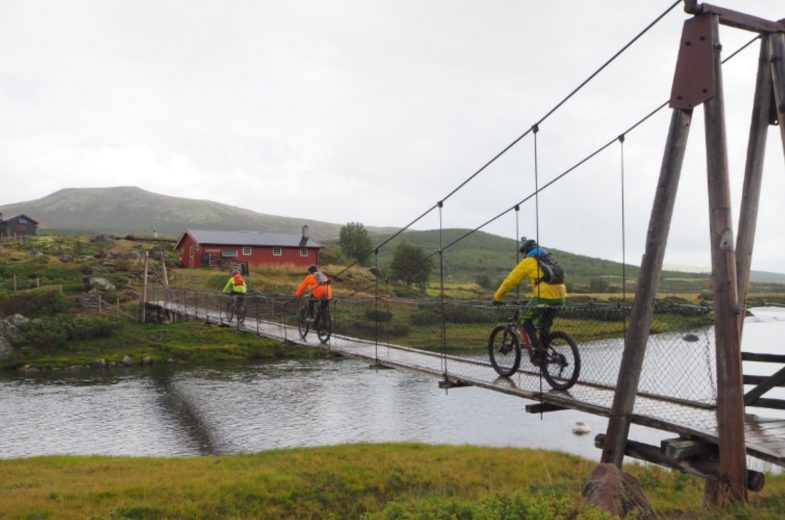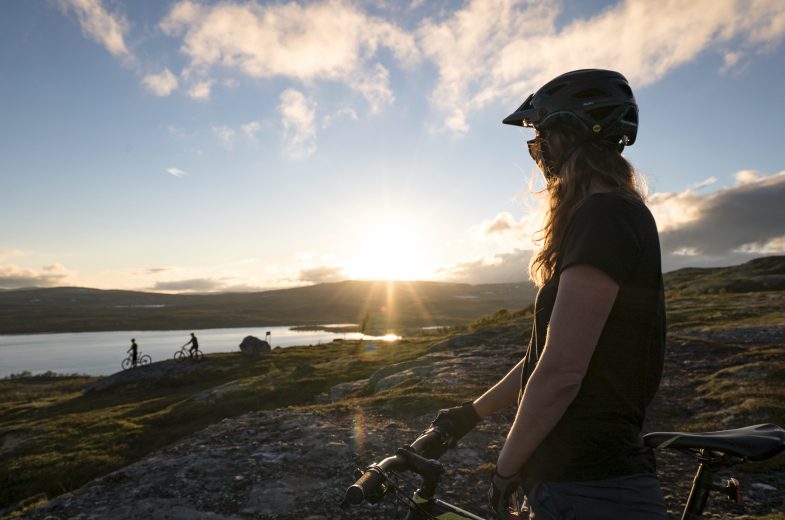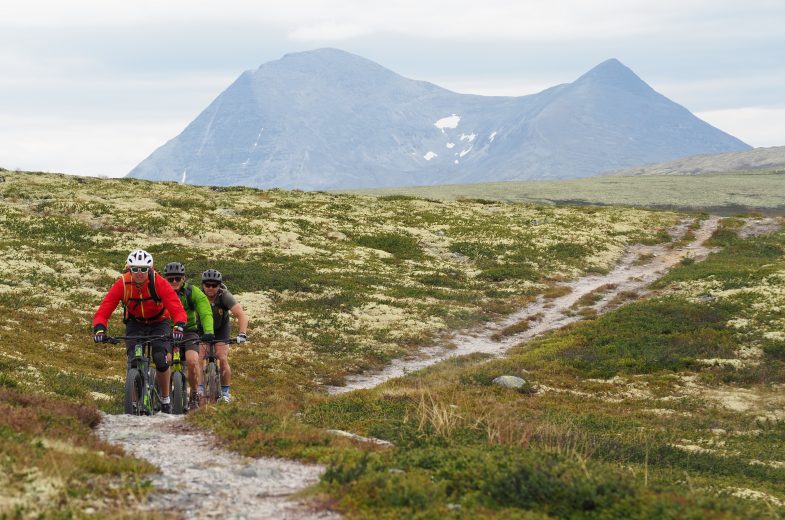 The singletracks of history – from Rondane to Røros
Musk ox safari, mountain farm lodgings, UNESCO site, and Norway´s foodie capital! All and more on our mountain bike tour from Rondane to Røros.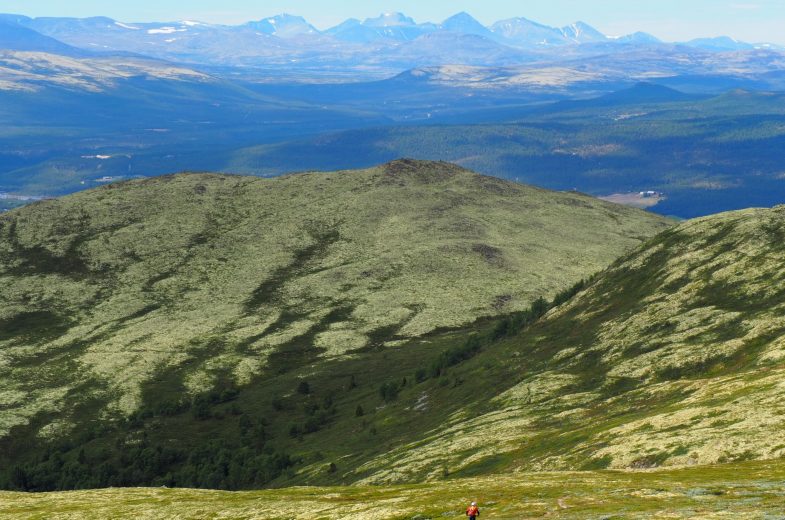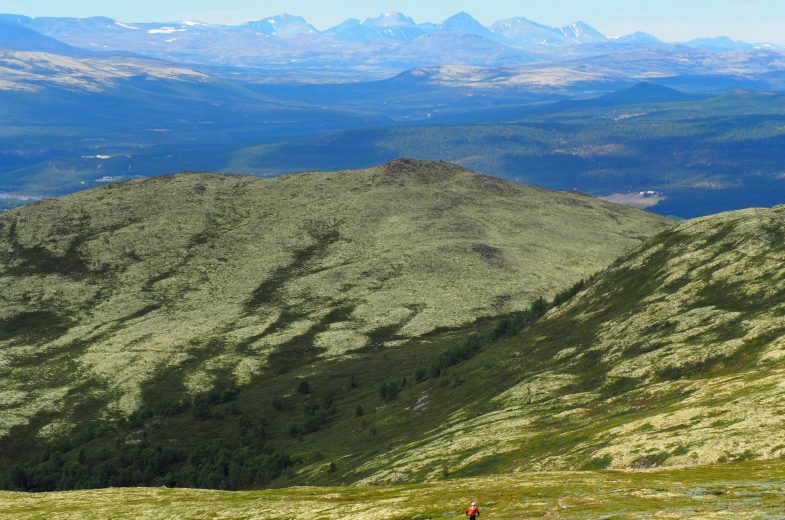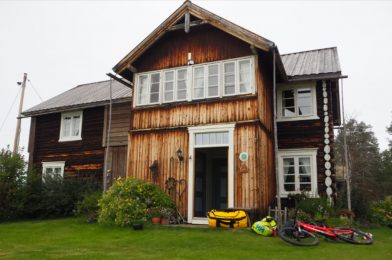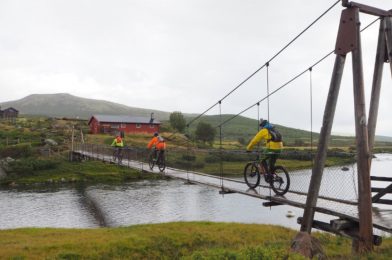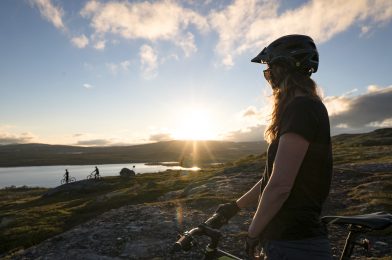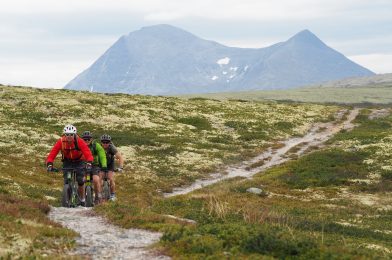 About
Join on us on this spectacular tour from the backyard of Rondane national park to Røros, the foodie capital of Norway! We will sleep at rustique mountain farms, meet Musk oxes, relax in the wellness area of Røros hotel, and visit the UNESCO world heritage site of Røros. All with the fabulous singletracks in the area as our backdrop.
Difficulty
Intermediate
Group size
4-10 persons
Duration
8 days
Price
24,900 NOK
Price includes:
NMIG guide for 6 days
7 nights of accommodation
All meals
Musk ox safari
Luggage transport
Itinerary
The area
Practical info
Itinerary
Day 1:
Arrival at our first lodging, the mountain farm of Gjermundshaugvangen. Gjermundshaugvangen is a traditional mountain farm in one of the most active agricultural regions in Norway. For supper you will be served traditional mountain food, made from produce at the farm.
Day 2:
After breakfast we will be transported to Mt. Tron, where we will be shuttled up to a mountain plateau on Norway's second highest lying mountain road. From the plateau we have 400 vertical meters of fantastic singletrack down to the tree line, from where we can pick and choose among some of the best mountain biking Norway has to offer. After the end of the tour we will be transported back to Gjermundshaugvangen.
Day 3:
After a hearty breakfast we will embark on the planned route of the day. We will follow the old trails from the historic mines in the area, and specifically the trail of the cableway connecting the mines with the railway in Alvdal. We finish our tour with a refreshingly fun descent from the top of the old cableway and down to our lodging at the beautiful and historic Kvebergsøya farm hotel. After a delicious 3-course meal from local produce we get a good night sleep and get ready for the next day.
Day 4:
Our singletrack of the day literally starts at our doorstep. We will follow the singletrack in the direction of Rondane National Park, and during our tour we will enjoy two beautiful descents surrounded by the scenic mountains of Rondane. At the end of our last descent we will be picked up and transported back to Kvebergsøya
Day 5:
For our resting day we have planned something really special. We will spend the day in the mountains in the company of Musk oxes on a guided Musk ox safari! Getting close to these ancient animals is a spectacular experience that surely will get your heart racing! Our lodging for the night will be at Romsdalssetra mountain farm, idyllically located by the river Einunna. We will be served traditional Norwegian mountain food, made from their own produce.
Day 6:
Today we have a full day in the mountains ahead with biking from mountain farm to mountain farm in the mellow and magnificent mountain landscape in the area. During the tour we will be crossing two valleys and finish the day with a beautiful singletrack following a mountain ridge to the valley floor. At the bottom of our last descent we will be picked up and transported to Røros for our lodging at Røros hotel where you can relax in the wellness area, before we enjoy another delicious dinner made from local produce at Norway's foodie capital.
Day 7:
We mount our bikes for today's expedition on the mountain plateau surrounding Røros. There is culture and history around every bend, and the mining history that has made Røros famous serves as a backdrop for the day. We finish our day with a beautiful singletrack all the way back to the hotel, and the opportunity to walk around and enjoy the UNESCO world heritage city of Røros in the afternoon.
Day 8:
After a fairly early breakfast we head out for our last tour, and some more of the beautiful singletracks Røros has to offer. We promise you will finish the week with a grin on your face!
The area
Mountain biking in Alvdal, Folldal, and Tynset
Most of our tours are hosted in the beautiful mountain landscape neighboring Rondane National Park. The mountain biking in Alvdal, Folldal and Tynset is known for its unique combination of trails above and below the tree line. The mountains in the area are almost hand tailored for mountain biking, with summits that are steep enough for fantastic descents, but also mellow enough so you don't have to push your bike too often. It is one of the driest areas in Norway, well protected from western low pressures by the mountain regions of Rondane and Jotunheimen. This means mostly dry trails throughout the season!
In Alvdal you find Mt. Tron, with Norways highest mountain road all the way to the summit. This provides a unique starting point to a magnificent network of trails. The area is also famous for the mountain farms, spread all over the mountains in the region. Most of the trails we use for biking are either used as trails to the mountain farms, or to the old mines, which you also find scattered around the area. Both result in a unique network of trails in the mountains.
Mountain biking in Røros
The mountain plateau surrounding Røros is a very special place, with its wide, mellow mountain terrain stretched across the old mining landscape. The mining and the logging that came with it, has resulted in a unique network of trails in the mountains surrounding Røros. Most of our tours are hosted in the southern part of the plateau. The mountain biking around Røros is especially known for the mellow and dry singletracks in the mountains.
Practical info
Level of difficulty
Intermediate
You're confident in your climbing and descending skills
You can handle moderately technical terrain and obstacles such as small logs and rocks (up to 10-12 cm high).
You have very good control of your bike on intermediate and slightly more advanced terrain, and are comfortable climbing quite technical singletrack
You can ride 4-6 hours a day at a moderate pace with some short breaks, over a few days
You can handle moderately steep climbs of up to a total of 600 vertical meters (1,650 ft) in a day
(Levels: 5-6 skill level, 4-6 fitness level)
Click here for more info on our reference for skill and fitness levels.
How to get there
Our tours are centrally located in southeastern Norway, only 3-5 hours from Oslo international airport. From Oslo international airport you could either jump onboard on one of the northbound trains towards Trondheim, rent a car, or we can organize pick-up at the airport. On this tour our starting point will be Alvdal, which is reached both by train and car. Please contact us if you want help or more information.
Accommodation
On our tours double-rooom is the standard for almost all accommodation. On some mountain farms, huts or the like family rooms or rooms that sleep more than two might occur. If you want a single-room there might be some additional costs.
Equipment
We recommend full suspension bikes on all of our tours. We also provide rental bikes, specially tailored for our tours. We will issue a recommended packing list for every tour. Please note that the packing list is issued as a reference, and Urørt ski og sykkeleventyr AS is not responsible for failing to include any particular item or misspellings on this list.
Terms of payment
When the order is placed an invoice for the deposit, equaling 30 % of the total price, will be issued. Final payment is due 60 days prior to departure. The agreement between the parties is not binding until the deposit is paid in full. To read our full terms and conditions click here.
Your guides
CEO at Urørt and NMIG certified MTB guide
Audun holds a passion for mountain-adventures, and especially secret gems off the beaten path. Through Svaneti Backcountry and Urørt, he has been organizing guided ski-tours to Svaneti since 2013, and he has first-hand knowledge of the skiing, culture, and local partners of the area.
As a mtb guide he is at the top of his game in this own backyard, in the neigboring mountains to Rondane National Park, and in the areas surrounding Røros. Wherever the tour goes he is ready to show you the best trails adjusted to your level and needs.
Weather
Even though most of our tours are hosted in some of the driest areas of Norway, we will still be in the mountains and above the tree line for a longer period of time on most of our tours. We encourage all our guests to be prepared for all kinds of weather, and all seasons, even during mid-summer. At all times follow the instructions of your guide, and use the issued packing lists as reference to get the most out of your tour!
Home